In recent cinematic history, there is perhaps no genre of film as popular or lucrative as the comic book superhero adaptation. Not even the Westerns of the Golden Age of Hollywood could match the critical, let alone commercial, success of the many franchises that have begun, died, grown, and been revived in the last two decades. And with Avengers: Infinity War fast approaching theaters, I felt that now was as good a time as ever to look back on my favorites of the genre. Barring anything miraculous happening, like Aquaman or Ant-Man and the Wasp blowing me away, this list of ten will not change. However, I'd like to emphasize that all of the films on this list are based on an existing source material. I LOVE Brad Bird's The Incredibles and am completely excited for the upcoming sequel, but that's going to have to be some other list for another day. That being said, here are a few films that just missed the cut.
Honorable Mentions:
Captain America: The Winter Soldier, The Lego Batman Movie, Spider-Man, Thor: Ragnarok, Blade II, Batman
Setting aside all potential controversy and fanboy outrage, here we go:
#10: "Xmen: Days of Future Past" (2014)
"Please… We need you to hope again." It's the conversation depicted in the image above, but it's also the film's plea for human kind's optimism. Bryan Singer returns to the director's chair to unite the cast of the franchise he started with the players of the First Class generation in an emotionally fulfilling time-travel epic about legacy and regret. The plot may borrow elements from the Terminator franchise, but it's the rich characters and thrilling action sequences that set it apart. Unlike previous films that mainly deal with the mutant perspective on prejudice, this story shows the effects (or lack thereof) of worthless fighting and speciesism. Also, the kitchen scene with Quicksilver is nothing short of badass and one of my favorite superhero moments in general.
#9: "Wonder Woman" (2017)
Yeah, it may have only come out last year, but the impact and importance of director Patty Jenkins' female-led superhero film cannot be understated. In a genre and industry dominated by masculinity and "boys with their toys" mentality, both she and star Gal Gadot show us the power of women, a sentiment much needed in this age. Also needed in this age is its fierce rejection of any cynicism, looking hard and critically at the flaws of man while celebrating their most redeemable qualities. The DC Extended Universe has been fumbling as of late, but hopefully, the masterminds get the lesson from this film to work in more optimistic fields where their directors have total freedom.
#8: "Iron Man" (2008)
Here it is, folks. The film that started it all. The movie that defied everyone's negative expectations and started an unprecedented, impossibly successful new model for franchise filmmaking. It was only in the early 2000's that Marvel Entertainment managed to assemble the rights to many of their major characters, and realized that they had a great opportunity on their hands. Jon Favreau's partially-improvised Iron Man was the first one in that plan, and they couldn't have picked a better running start. Robert Downey Jr. IS Tony Stark/Iron Man with his sarcastic wit and beautiful ability to read lines at a fast pace. Endlessly rewatchable, especially because many of the effects are practical.
#7: "Batman Begins" (2005)
Spoiler Alert: This may not be the last time you see a movie starring the Caped Crusader on this list. Following the atrocity of Batman & Robin, it's truly a wonder that Christopher Nolan got to make this movie the way that he did. Not only did it revive and change the landscape of superhero movies, but cinema in general. From Christian Bale's throat cancer-laden interpretation of the titular crime fighter to the seedy underbelly of Gotham City, this felt both realistic and right. For the first time, I actually cared about both Bruce Wayne and Batman. The 2000's saw a lot of gritty reboots of beloved or lighthearted franchises, but Batman Begins stood head and shoulders above the rest of them.
#6: "Spider-Man 2" (2004)
In contrast to the previous film, how about we move and look at a movie filled with innocence and earnestness? While Sam Raimi's first foray into everyone's Friendly Neighborhood Web-Slinger was a joyous ride, the sequel ramped up both the stakes and the emotional involvement. By wisely putting character development at the heart of the narrative rather than action spectacle, Toby Maguire is given a chance to flex his muscles as Peter Parker AND Spider-Man. Spider-Man 2 also gave us a great villain in Alfred Molina's Dr. Octopus, who borders on misunderstood tragedy. And its message couldn't be more uplifting: There's a hero in all of us.
#5: "Deadpool" (2016)
Now we've come into the first R-rated entry in the superhero genre, and my goodness does it earn it. We all knew that Ryan Reynolds was a good choice for the titular role of the Merc with a Mouth, even if that mouth was sewn shut the first time around. But one reel of leaked test footage later, and both 20th Century Fox and Tim Miller gave us a raunchy, self-deprecating round of profane glory. Deadpool may lean heavily into dick jokes, but in a genre where most movies are seemingly following the same template over and over again, it's both refreshing and hilarious to see some filmmakers push the boundaries with their knowledge of the source material.
#4: "Guardians of the Galaxy" (2014)
I am Groot. This movie, if for nothing else, is proof positive that audiences will watch literally anything if you slap the word MARVEL in front of it. By taking a Z-list comic book team whom very few people were familiar with and turning it into an action buddy sci-fi comedy, James Gunn lifted everyone's fears that this would be the MCU's first big bomb. Chris Pratt and Dave Bautista basically cemented their names with this movie, full of vibrant colors and a killer soundtrack. Who knew a CGI raccoon and a talking tree would make me laugh? Guardians of the Galaxy, apparently.
#3: "Logan" (2017)
Shh. Do you hear that? That soft, wordless sound? That's me crying my eyes out in the theater during Logan. Less a superhero movie and more a like a sober, powerful examination of the violent legacy of an iconic character, director James Mangold foregoes the need to save the world or get the girl at the end. He presents Logan, formally Wolverine, as an old, bitter, tired mutant who's seen enough of the world to want to drink himself to death. Both Hugh Jackman and Sir Patrick Stewart are honestly Oscar-worthy in their performances as two lost souls sticking together as an obligation rather than a wish. A hard-R, intimately human portrayal of nobility in a terrible world.
#2: "The Avengers" (2012)
Sneaking out of school to catch The Avengers on opening day is one of the most fun experiences I had at a movie theater. What Joss Whedon managed here should have, by all accounts, been a complete and utter disaster. But not only did he manage to cap off Marvel's 5-year plan, he did it in an extremely satisfying and entertaining way. All of the characters were juggled around in relevant ways while Tom Hiddleston gives us the best Marvel villain by an ocean length with Loki. In terms of pure and unadulterated fun, The Avengers may be my favorite movie on this list. And yet, it's still not the best…
#1: "The Dark Knight" (2008)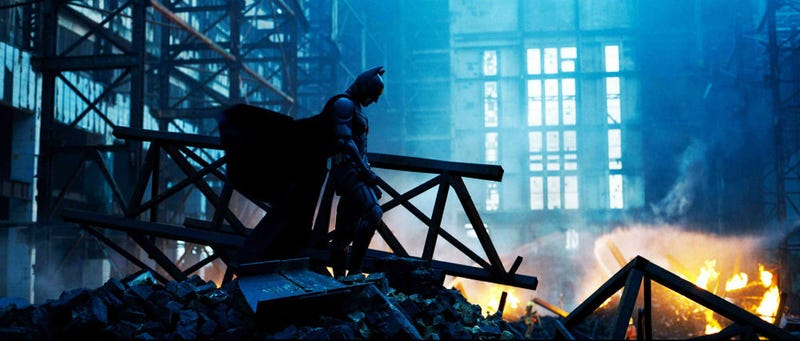 Honestly, what else were you expecting to top this list? Don't let anyone convince you that director Christopher Nolan's The Dark Knight is just a "comic book superhero movie." That would a gross simplification of what actually amounts to a gritty, complex, unpredictable crime epic that deconstructs the mythology of vigilantism. Where should a hero draw a line in the sand? They either die a hero or live long enough to see themselves become a villain. Speaking of villains, Heath Ledger genuinely gives one of the best performances in cinematic history as The Joker. It's not just because of his death everyone thinks he's good; he's really THAT good. The Dark Knight isn't just the best superhero movie ever made, not just one of the greatest sequels ever made, but one of the greatest films of all time.
Well, there it is. Do you agree with my picks? What's your favorite superhero movie of all time? Please leave your thoughts in the comments, and if you're interested to see more content like this, be sure to like this Post and Follow my Blog.