Welcome to to the year 2019, readers! Every year brings a new crop of movies that get my blood pumping for one reason or another. This year is no different, as there are a number of high-profile (And smaller indie) releases that have been holding my attention for months on end now. As per usual, there are so many coming out within the next 12 months that it was kind of hard to narrow down into a ranked list. I could only include 10 on this list, though, so here are several honorable mentions that are also on my watchlist for the year.
Honorable Mentions:
A Beautiful Day in the Neighborhood, Shazam!, The Lego Movie 2: The Second Part, It Chapter Two, Artemis Fowl, The Kid Who Would Be King, Missing Link, Captain Marvel, Avengers: Endgame, Captive State, Aladdin, The Lion King, Alita: Battle Angel, High Life, Velvet Buzzsaw
Let's see what's coming out, now.
#10: "The Irishman" (TBA 2019)
If the last few years have proven anything, it's that Netflix really wants to be taken seriously in the filmmaking industry. While there are still several directors and producers who are cynical about the streaming service's merits, they have managed to attract numerous high-profile auteurs due to their emphasis on creative and artistic freedom. One of those auteurs is Martin Scorsese, whose long-gestating project The Irishman was finally given the green light once it got to Netflix. While it technically doesn't have an official release date yet, most sources seem to indicate that it's going to be released sometime in 2019. And with the recent theatrical success of Roma, I can easily see this as a window for them to open more of their films in theaters. If for nothing else, I just want to see Al Pacino, Robert De Niro, and Joe Pesci (In his first role in nearly a decade) work together on-screen.
#9: "Joker" (Opens October 4th)
I can't quite explain why, but Todd Phillips' Joker movie has my interest piqued more than any other comic book adaptation coming out next year. Obviously, I'm looking forward to Avengers: Endgame, Captain Marvel, and Shazam!, but this just seems really different from those other films in so many aspects. Based on many accounts I've read, Warner Bros. is gunning for a more character-driven, smaller-scale film. Rumor has it that they'll let get an R-rating, and may even put it into a fall festival next year! Joaquin Phoenix seems like a natural fit for the titular part, reportedly having been terrified by the script he read. And if the set videos prove anything, it's definitely going to be fast-paced.
#8: "Glass" (Opens January 18th)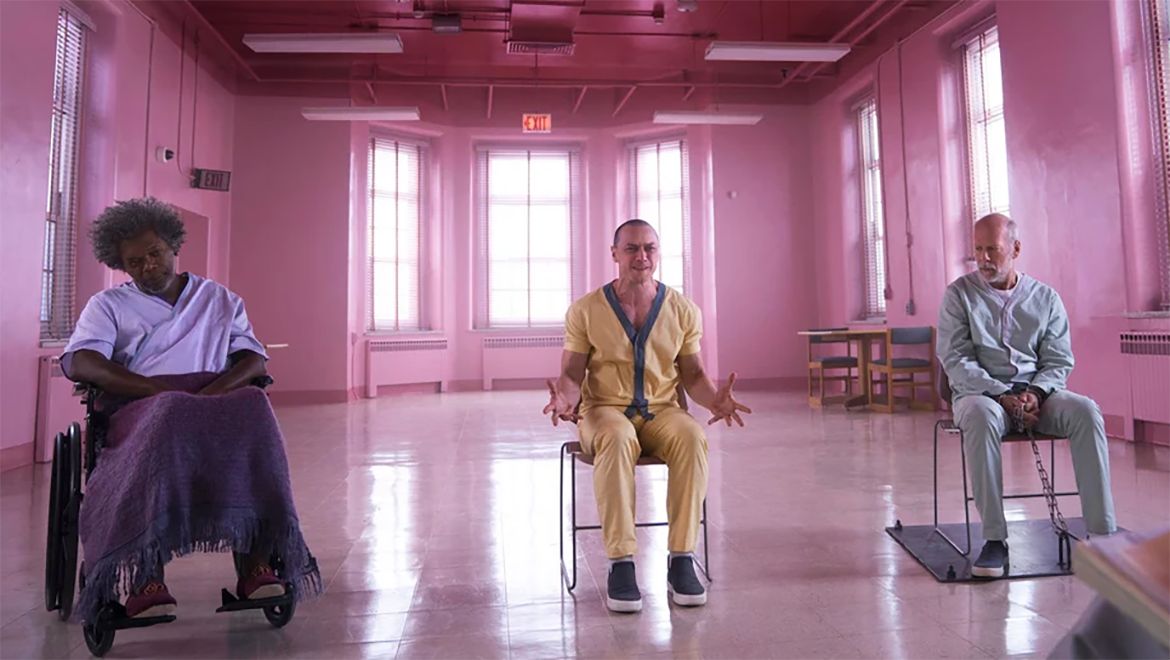 19 years it's been since Unbreakable first came onto the scene as a brand new superhero movie, but the world was sadly not ready. Now, with a surprise twist at the end of Split, M. Night Shyamalan is officially bringing the story to a conclusion, albeit in a drastically different world than the one it was when it began. Superheroes have absolutely flooded the market in the last 10 years, and it's both great that Glass is coming out at the genre's peak, and sad that it took this long. Regardless, it looks like a really cool and intense showdown between the three super-powered beings we've come to know, all while wearing its love of comic books proudly on its sleeves. And its use of color looks genius.
#7: "Midsommar" (Opens August 9th)
It's honestly kind of problematic for me to say that I'm "excited" for a new movie by the same guy who made Hereditary. I honestly couldn't blame anyone who still hasn't recovered from that feverish nightmare, but writer-director Ari Aster already has another film coming down the pipe. This time, it involves a violent pagan cult in Amsterdam. Described as an "apocalyptic breakup movie," A24 has reportedly constructed a 15-building village to bring his twisted vision to life, so it's definitely worth keeping tabs on for the end of the summer.
#6: "John Wick 3: Parabellum" (Opens May 17th)
The set photo above is easily enough to have me already pumped to the max about the supposed trilogy capper for Lionsgate's surprise action franchise. I've absolutely loved these movies not just for their incredibly well-choreographed and shot action scenes but also for the unique world that has been built. John Wick 3: Parabellum seemingly promises to further blossom that world as we getting to see not only more assassins, but also introduces a society of NINJAS. Need I say more?
#5: "Us" (Opens March 15th)
It's safe to say that after the phenomenal success of Get Out, including an Oscar win for Best Original Screenplay, Jordan Peele knows exactly what he wants to do and how to do it. He's lined up quite a few projects as a producer with power that it's somewhat easy to forget he's stepping behind the camera once more next year for a new horror movie. The trailer for Us looks incredibly enticing, as it sees him tackling more high-concept material with a larger budget this time around, along with some impressive casting choices. I'm curious to see what sociopolitical topic Peele will be satirizing this time, but based on the imagery shown thus far, he's cooked up yet another original triumph.
#4: "Ad Astra" (Opens May 24th)
Having seen We Own the Night, The Immigrant, and The Lost City of Z, I'm now convinced that James Gray is one of the most underrated filmmakers working in America. He has a certain classical touch that seems to permeate across multiple genres. I'm incredibly curious to see what he has cooked up for Ad Astra, an original sci-fi epic apparently inspired by the novel Heart of Darkness. It centers on a slightly autistic Army engineer who goes on a space voyage to find his father, who was last heard heading for Neptune about 25 years earlier. Not only does boast stars like Brad Pitt and Tommy Lee Jones, but also Christopher Nolan's recent muse Hoyte Van Hoytema is handling the cinematography.
#3: "Knives Out" (Opens November 27th)
With nary a poster, trailer, first-look image, or even proper synopsis in sight, it says a lot that I'm putting Knives Out this high on the list. It has been described by several sources as writer-director Rian Johnson's modern-day take on a classic Agatha Christie whodunit murder mystery. It's far too rare that we can get a movie as simple as that these days. Not to mention, it has a stacked cast including Daniel Craig, Lakeith Stanfield, Chris Evans, Don Johnson, and even Jamie Lee Curtis. It's really intriguing to see what Johnson has in store for a smaller-scale story like this after helming a huge blockbuster like The Last Jedi. Speaking of which…
#2: "Star Wars Episode IX" (Opens December 20th)
It feels super lazy for me to include a Star Wars movie on a list like this, but I just can't help it. As per usual, any and all details of what might be going on in this sequel trilogy capper are being kept under lock and key. We do know that newcomers include Richard E. Grant and Keri Russell have joined the cast, Billy Dee Williams is reprising his role as Lando Calrissian, and the plot will take place one year after The Last Jedi, perhaps one of the most divisive films of the decade. What makes it all the more enticing is that it is planned to be the final installment of the Skywalker Saga, which has spanned decades now. Of course, Disney has more Star Wars material planned to come down the pipe, but to see the story finally reaching a real conclusion is kind of like taking one last trip to your old hometown before saying goodbye.
#1: "Once Upon a Time in Hollywood" (Opens July 26th)
You're going to have to work extremely hard to make me not feel excited for a new movie written and directed by Quentin Tarantino. While he has gone through some pretty rough patches recently- severing ties with Harvey Weinstein, the Roman Polanski audio, Uma Thurman's revelatory Kill Bill story -the auteur still has plans and has no intention of slowing them down. His 9th feature film- and supposedly his penultimate one, if what he says is true -legitimately sounds like a passion project he's been working towards his whole career. It's going to be set in Hollywood 1969 as a Western T.V. actor and his longtime stunt double struggle to make it in a changing film landscape, and also happens to involve the infamous Manson Murders. Featuring an absolutely sprawling ensemble cast packed with movie stars and said to be close in style to Pulp Fiction, Once Upon a Time in Hollywood sounds like an epic in the making.
Do you agree with my picks? What are your most anticipated films coming out later this year? I'd love to hear your thoughts in the Comment section, and as always, if you like what you see here, be sure to Like this post and Following my Blog for similar content. Happy New Year, everybody!