And with that, I have officially concluded my cinematic journey through the year 2018. While much of the current affairs of the world created a toxic, venomous climate in the United States, the movies still proved a nice place to try and get away from all of it. There were a number of amazing films that so expertly managed to weave contemporary fears and issues with entertainment seamlessly. By the time I posted this list, I have watched 132 feature films released in 2018, a new personal record for me. As always, though, before getting on with the Top 20, there are a number of honorable mentions that I really liked, but couldn't quite include them on the final list. Here they are.
Honorable Mentions:
Won't You Be My Neighbor?, RBG, The Ballad of Buster Scruggs, Cargo, First Man, Private Life, First Reformed, Support the Girls, The Favourite, Crazy Rich Asians, The Endless, Upgrade, Blockers, To All the Boys I've Loved Before, Set it Up, Vice, Shoplifters
And now, let's begin with my 20 favorite films of 2018.
#20: "A Quiet Place"
I honestly find it a little poetic that this horror movie managed to stay relatively lowkey until it absolutely blew up and arguably became the breakout hit of the year. John Krasinski uses an original idea- a post-apocalyptic environment where no one can make any sound if they want to live -to tap into his own personal fears of parenthood. Casting his real-life wife Emily Blunt alongside him was also important to make it feel as though we're watching a true family attempting to survive a palpably horrifying scenario. The world that's built within A Quiet Place and its 90-minute runtime feels so lived in and believable, even without a whole ton of verbal exposition that would typically guide us. With an emotional core that echoes classic Spielberg films and an (Obviously) fantastic sound design, we're immediately drawn into this high-concept world of silence and terror.
#19: "Widows"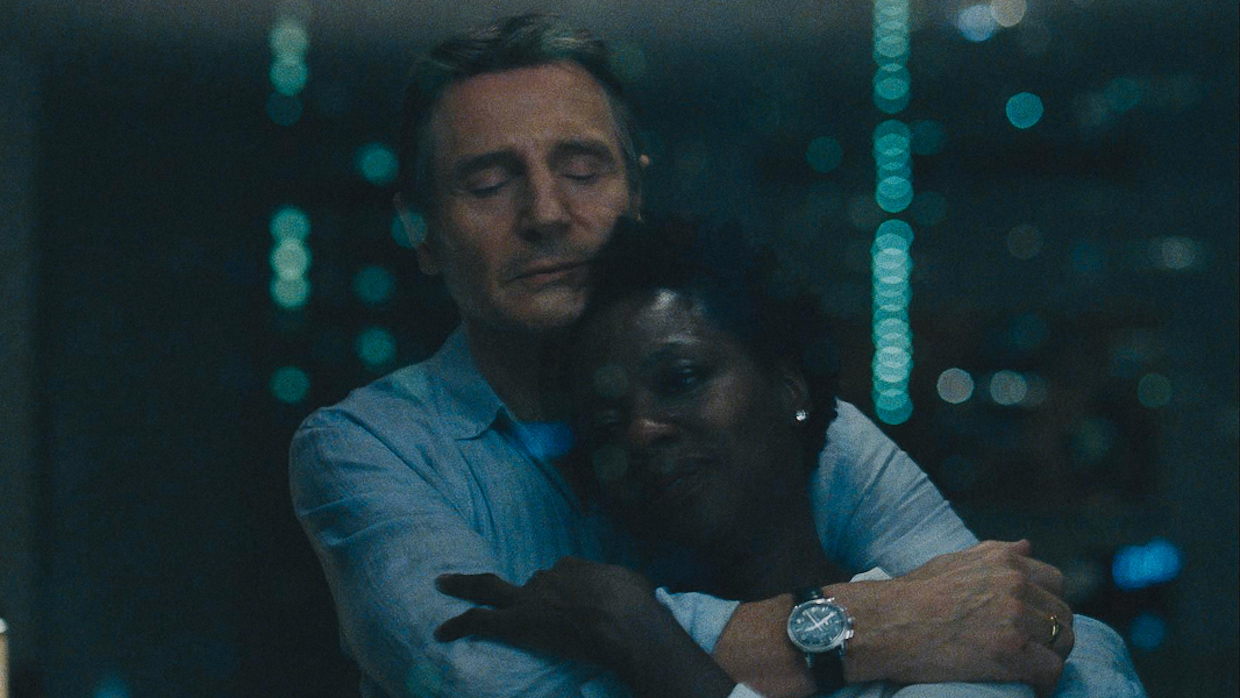 There have been many commentators over the years that say true artists should steer clear of making more commercial entertainment. While this is an understandable sentiment, Steve McQueen's Widows shows that he's completely capable of holding onto his sensibilities while still crafting a genuine crowdpleaser. The story of four women picking up where the dead criminal husbands left off covers everything from capitalism to abuse and police brutality, but never forgets to keep it thrilling to watch. Having Gone Girl's Gillian Flynn co-write the script was a stroke of genius as these female characters are incredibly complex and well-written women struggling to make it by in a world dominated by the opposite sex. These multitudes of craft and care make for a film that ends up being so damn satisfying.
#18: "Incredibles 2"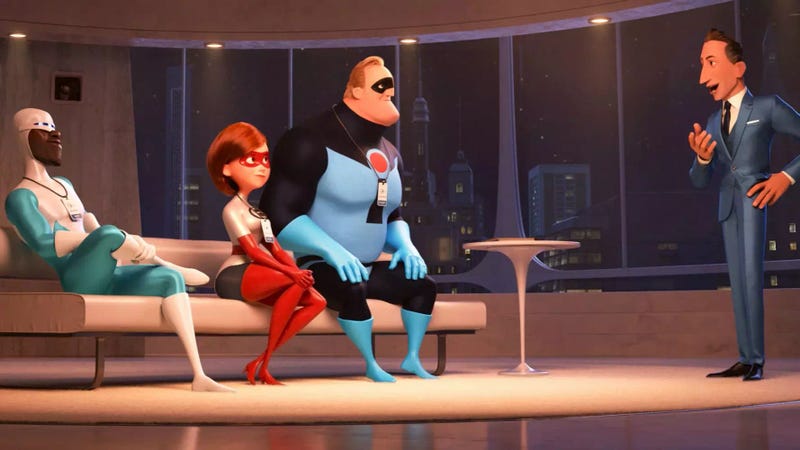 Although it never reaches the amazing heights of its 2004 predecessor, it's still quite impressive how fun and exciting Incredibles 2 turned out to be. Brad Bird once again provides his own personal stamp on the film about everyone's favorite family of superheroes as they contend with what it means to be one in a world so cynical towards costumed crime fighters. It's extremely understanding of the markets current obsession with the genre and frequently jabs at various conventions with a smile. This will likely be remembered as one of Pixar's best sequels, which is admittedly a low bar to clear, but it's still highly entertaining nonetheless.
#17: "Game Night"
Ever pictured what it might look like if David Fincher directed a straight-comedy script written by Quentin Tarantino? Far fetched, I know, but that's actually a pretty close analogy to what Game Night is. It was way funnier and more thrilling than I ever thought it would be, thanks in large part to the stylized direction of John Francis Daley and Jonathan Goldstein. They use a smart screenplay to expertly mix laughs with a genuinely engaging mystery that admittedly gets a little indulgent by the end, but still remains enthralling thanks to the commitment of its cast. And let's never forget Jesse Plemons as Gary. We underestimate that man too much for our own good.
#16: "Eighth Grade"
You wouldn't expect the same comedian who gave us "I can't fit my hand inside a Pringle can" to come swinging out the gate with one of the most brutally honest coming-of-age stories of the last 20 years. But that's exactly what Bo Burnham did with Eighth Grade, which has seriously grown on me the more I've thought about the film since its release. Featuring an impeccable script and a sincere lead performance from Elsie Fisher, its exploration of social media and Generation Z's mental health is so well-balanced and insightful without ever becoming judgemental. For many, it will recall memories of one of the weirdest transitions in their lives and has no qualms about drawing out scenes with great detail. It truly is an awkward movie to watch with some painfully cringy moments, (The car scene is pretty horrifying) but there are also ones of true warmth, such as Josh Hamilton's stumbling monologue near the end.
#15: "A Star is Born"
Who would have predicted that the 4th remake of a film from 1937 would prove to be this year's awards season frontrunner and actually live up to most of that hype? Not to mention the fact that it pulls double duty as Bradley Cooper's directorial debut, and this could have easily been a huge misfire. But lo and behold, this new rendition of A Star is Born is so damn confident in nearly every element of its craft. Plus, the amount of investment and care it puts into the two leads- as well as a stellar supporting turn from Sam Elliot -creates such an engrossing and electric cinematic experience. Oh yeah, and it's got some pretty catchy original songs to boot.
#14: "Suspiria"
A bone-crunching, evil nightmare with a lot on its mind, Luca Guadagnino's reimagining of Suspiria is easily one of the most divisive films I've ever watched. I was honestly kind of pumped even more because of the controversy, as horror movies can help to create real conversations among audience members. And with its coldly bleak style, Kubrickian themes, and rather epic runtime, Suspiria was indeed able to spark a genuine discussion with friends after it was all over. Even if you look past its damning commentary on fascism and indoctrination, there's still a creepy and intriguing horror mystery at the center of the movie. It absolutely revels in the abstract, with a plot involving witches and the undead, (Possibly) all while Thom Yorke is vocalizing the entire experience in a very unsettling manner.
#13: "Spider-Man: Into the Spider-Verse"
I have seen Into the Spider-Verse in theaters twice now, and I want to see it a third time before it closes its run. I adored virtually every aspect of this tribute to the iconic Marvel character, as well as his late creators Stan Lee and Steven Ditko. By tapping into the rich visuals and stories of the comic books, it feels as though it has a better understanding than most other iterations of what the idea of Spider-Man is meant to be, rather than simply who wears the mask. A truly gorgeous and inventive animation style goes hand-in-hand with the eccentric and beloved characters, especially with a protagonist like Miles Morales. Its subtle push for diversity and inclusion is very much welcomed in an era where audiences are demanding more opportunities to see themselves portrayed on the silver screen in respectful and glorious ways. And Spider-Man: Into the Spider-Verse is certainly a major step up.
#12: "Bad Times at the El Royale"
This was one of the most criminally underseen movies of the year, and we should feel ashamed of ourselves for letting it be so. Rather than just cashing in on the nostalgia of pulpy crime flicks by Quentin Tarantino, Drew Goddard used the story to make us reckon with the genre as a whole as well as the concept of redemption. An excellent cast playing a set of fascinating characters coupled with some amazing dialogue and assured direction put it over the top as a compelling and genuinely involving mystery. Bad Times at the El Royale is destined to become a cult classic in the next few years, and we had a year chock full of them.
#11: "If Beale Street Could Talk"
While it may be a period romance set during the 1970s and feature old-fashioned costumes or wigs, If Beale Street Could Talk is still able to speak volumes about the regularity of injustice and prejudice in the modern era. Writer-director Barry Jenkins has crafted yet another beautiful portrait where love and suffering intertwine so seamlessly in the everyday lives of a young black couple in Harlem. The classic titular James Baldwin novel gets the adaptation it deserves as we glide through a deeply felt and empathetic story of a fight against institutional injustice. And yet, it never wallows in misery or painful sadness, utilizing flesh-out characters and vibrant colors to draw audiences into the narrative. When it comes down to it, love conquers all.
#10: "BlacKkKlansman"
While it may be didactic and unsubtle, BlacKkKlansman is also my favorite "Spike Lee Joint" that I have seen thus far. The director is VERY angry about events in modern times, and using a buddy cop story from the 1970's is a pretty ingenious way of filtering it towards a broad audience. The story of Ron Stallworth, an African-American detective from Colorado Springs infiltrating the KKK, is rife with extremely funny and insightful moments. Witnessing the Klan's idiocy on full display is both hilarious and terrifying at the same time, especially with the jaw-dropping mic drop of an ending. In addition to the sharp writing or even sharper filmmaking techniques, we're also treated to some very fun performances from the likes of John David Washington, Adam Driver, and surprisingly Topher Grace. Never before have I have been so simultaneously unsettled by and howling with laughter at the stupidity of white racism.
#9: "Hereditary"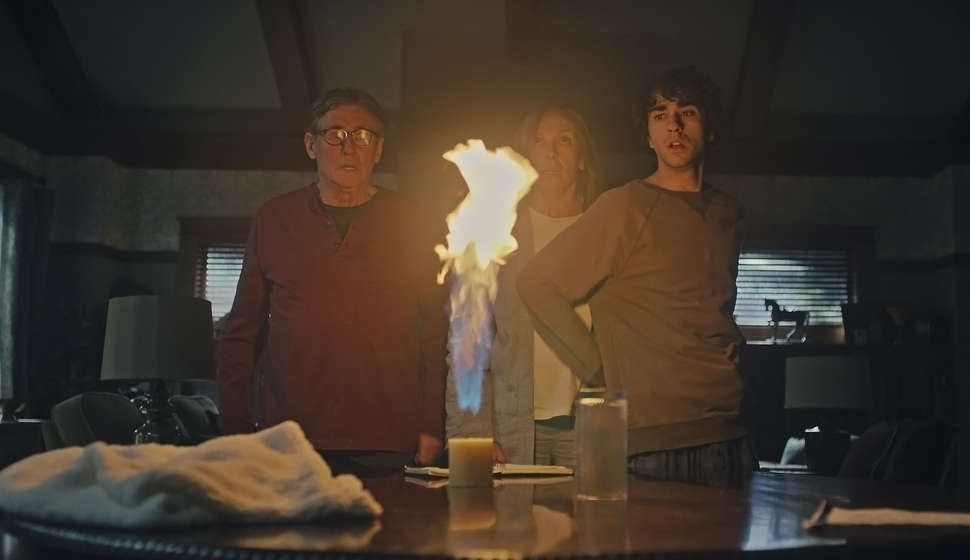 In recent years, the horror genre has been experiencing something of a new Renaissance in movies. And while I've really enjoyed many productions from companies like A24 and Blumhouse, Hereditary was absolutely the scariest and most disturbing one I had seen in a long time. Visceral, uncompromising, and upsetting to a fault, Ari Aster's feature directorial debut doesn't waste any time fooling around with the audience. Mark my words, there are scenes in this movie that are going to haunt me for the rest of my life, and images that have been permanently burned into my brain. Anchored by Toni Collette's amazing performance, watching the complete psychological breakdown of this small family feels unnervingly real and plausible, despite its supernatural elements.
#8: "Black Panther"
Most of us already knew that Black Panther was going to be a pretty great movie, but few people could have possibly predicted the massive cultural impact it would have across the world. Marvel's first film featuring a cast made up almost entirely of black actors, the way it infuses action thrills with contemporary politics is ingeniously done by Ryan Coogler and co-writer Joe Robert Cole. And after seeing celebrities buying out theaters and at-risk youth being taken to see the movie, Disney realized that they had something truly special on their hands and have been pushing it all the way to a guaranteed Best Picture nomination at this year's Academy Awards. Yes, Avengers: Infinity War may have been the bigger movie in almost every aspect, but this is simply the better one.
#7: "Sorry to Bother You"
No other way to properly describe it: Sorry to Bother You is the ultimate FUCK YOU to capitalism. It still boggles my mind how much originality and scarily relevant subtext is found in this movie, especially with such a relatively lean runtime. Writer-director Boots Riley is able to tell a pretty sprawling story with a very specific vision, all the while making it feel both logical and hilarious. Lakeith Stanfield is really the force that's holding everything together, using his unique charisma and wavelength to make the audience feel like they're stuck in a very absurd world. By the end of it all, what should be extremely weird and off-putting is instead quite believable in the context of the alternate present-day vision of Oakland that Riley has crafted.
#6: "The Death of Stalin"
A group of Communists duke it out for control of the Soviet Union after Joseph Stalin suddenly dies; grim hilarity ensues. In all seriousness, though, Armando Iannucci's scathing political satire has all of the comedic bite of his HBO series Veep, combined with an unexpectedly dark tone. All of the actors- especially Steve Buscemi, Jason Isaacs, and Michael Palin -are hysterical in their roles, particularly because they all speak using their natural accents. This is just one of many disconnects from reality that created big laughs from me, but The Death of Stalin also frightened me at times when it showed the brutality of the U.S.S.R.'s regime. There were just as many gasps as there were fits of laughter in my audience and it's perfectly easy to see why this was banned in Russia. And even if you're not as tuned into current politics as I am, you'll still be left in both stitches and awe of what is shown on-screen.
#5: "You Were Never Really Here"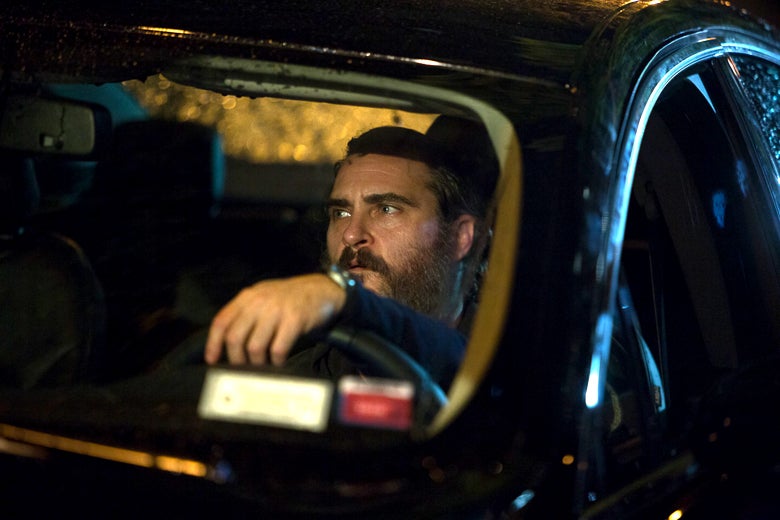 Imagine if Travis Bickle was caught up in the plot of Taken, and you'll have some vague notion of what writer-director Lynne Ramsay is going for here. But that still only scratches the surface of what's really going on in You Were Never Really Here, a paradoxical and thoughtful crime thriller that sometimes borders on the intensely surreal. With Joaquin Phoenix giving one of- if not THE -best performance of his career, we're given a window into the mind of a man who has been completely broken by the violent world that surrounds him but still tries to do some good for one teenage girl. The unique editing and score by Jonny Greenwood do such a brilliant and emotional job at making the audience feel like they're seeing the world while ants are crawling through our brains. It's visceral, moving, hyper-violent, and unpredictable.
#4: "Mission: Impossible- Fallout"
There are any number of big set pieces that easily qualify Mission: Impossible- Fallout as one of the best action movies of all time. The show-stopping H.A.L.O. jump, the motorcycle/car chase through the streets of Paris, the bathroom showdown, the final helicopter pursuit. But what truly makes it special isn't that nearly all of it was captured in-camera, or even that Tom Cruise was yet again willing to quite literally kill himself for our entertainment. What truly put Fallout over the top was writer-director Christopher McQuarrie's understanding of how to properly juggle spectacle and character. The stakes are global, but still feel immediate with the people shown in front of us. There's always some stupidly impressive stunt piece on-screen, but we feel a great fear for the ones committing it. Films like this baffle me as to why The Academy hasn't yet added a category for Best Stunts.
#3: "Paddington 2"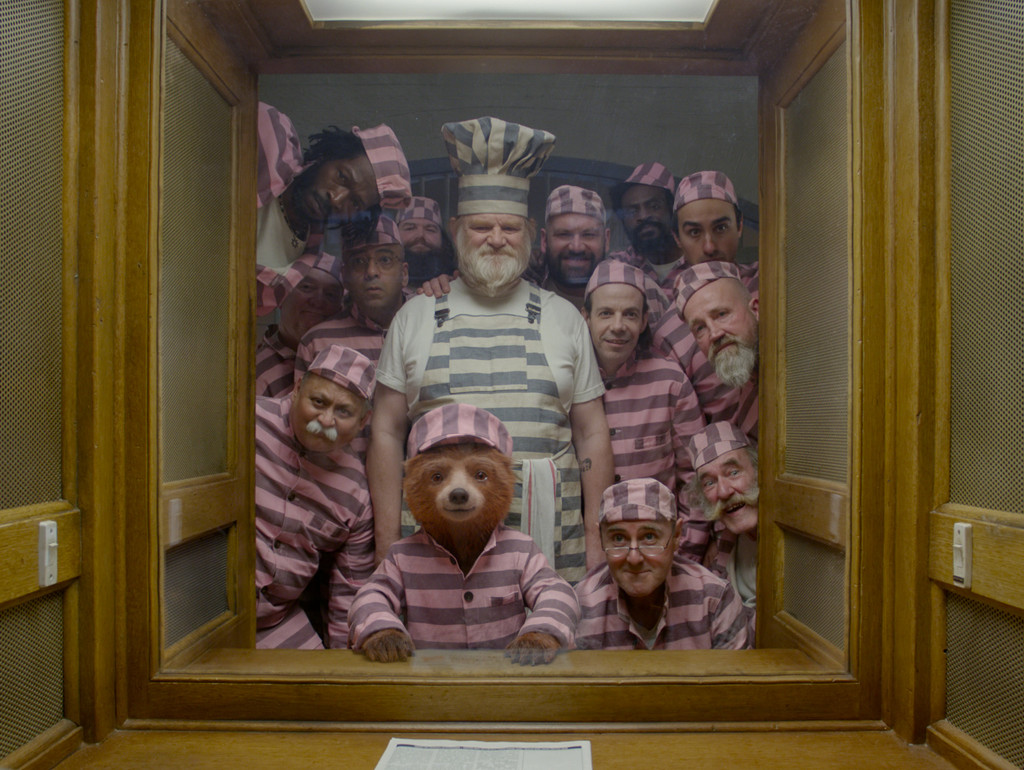 Paddington 2 is probably one of the purest, most innocent films ever made. There was quite literally no better time that it could have come out to the world, and between this and the wonderful documentary Won't You Be My Neighbor?,  it seems numerous people in Hollywood want to believe in the power of being nice. The story of a marmalade-loving anthropomorphic bear from Darkest Peru is exactly the kind of family-friendly escapism that we need right now. Every single moment of legitimately Paddington 2 feels like a kind-hearted miracle.
#2: "Roma"
Easily the best Netflix Original film released thus far, and one of the most powerfully personal stories cinema has offered the last few years, Roma is truly a beautiful accomplishment. Despite being in the Spanish language, (As well as brief segments in Mixtec) there are so many shots and scenes that transcend the barrier of translation and creates a universality with any audience willing to bask in its . Its black-and-white visuals create an immersive sense of nostalgia while the amazing one-takes for so many moments left me floored. Alfonso Cuarón really knows what he's doing here and digs deep into the social stratum of 1970s Mexico for a middle-class family and their loving housekeeper. I have no idea how he found Yalitza Aparicio, but I'm so glad that he did because she is so naturally empathetic in her performance as Cleo, an indigenous housekeeper doing the best she can. Roma has deservedly shattered the glass ceiling for a "streaming" movie and been showered with dozens of accolades to show for it. It's a testament to how far the director has come and how much farther he is still willing to go.
#1: "Annihilation"
I first saw Annihilation in theaters near the beginning of the year and spent most of the rest of it waiting to see if any film could beat it for me. While Roma came very close, it's ultimately this psychedelic and ambitious (And very loose) Jeff VanDerMeer adaptation that encapsulated exactly why I love going to the movies every year. Alex Garland has been on a hot streak with trippy, head-spinning science-fiction films like Ex Machina, and now this proves him as an artist in complete control of visual storytelling. Glorious visuals, thought-provoking themes, dark imagery, challenging lead characters, an otherworldly score. Name it, and it's most likely somewhere in this masterful cinematic work. Moreover, Annihilation is one of the rare studio films of the modern era that actually encourages discourse after watching it. So whether or not you actually liked it, it'll be hard to take the story and ideas out of your head for a while. And for me, that's more than enough to qualify as the best film of 2018.
And that's my list! I'm terribly sorry it's a lot later than many other critics' from the year, but I took some time assembling the right words for each one. Do you agree at all? What was your favorite movie of 2018? Be sure to leave a comment below for it and why, and if you enjoy what you see here, be sure to Like this post and Follow my Blog for similar, movie-heavy content.