The 2010s are officially (And finally) over. There was an enormous range of cinema that came and went throughout the years. Some became major box office juggernauts, others made huge waves during their respective awards seasons. And then there were many that were just forgotten to time by everyone. And I'm here to try and rectify that.
The following list is compiled of the 20 films from this past decade I thought were overlooked or underrated. To be clear, this means theatrically released (Or limited/VOD) features that were largely ignored or forgotten by the greater populace not long after release. But they still deserve recognition and love. Of course, there were many that couldn't make the cut so let's give a quick shoutout to some other gems.
Honorable Mentions:
Cold in July, Bad Times at the El Royale, The Accountant, Swiss Army Man, Edge of Tomorrow, Silence, Legend of the Guardians: The Owls of Ga'Hoole, The Art of Self Defense, Edge of Tomorrow, The Endless, Never Let Me Go, Mother!, Lincoln
Now let's get this show on the road.
#20: "Beasts of No Nation" (2015)
I feel like its appropriate to start this list with a film that completely changed how films were distributed and marketed. As the first film ever backed and released by Netflix, it really ushered in a brand new age of filmmaking that forced people to reconsider what we like to think of as "cinema." By this point, the streamer had already put some great original T.V. shows, but Cary Joji Fukunaga's heartbreaking anti-war drama Beasts of No Nation centered on an unwitting child soldier really showed that they wanted to be taken seriously as an entertainment distributor. Abraham Attah is a breakout talent here and Idris Elba gives an incredible turn as a psychopathic warlord with no line he won't cross. It's hard to recommend but essential for things to come with the streaming platform.
#19: "Chef" (2014)
I'll admit that I have a bit of a personal connection with this film because it was partly filmed in my hometown of Austin, Texas. But thankfully, that's not all Chef has going for it. Stepping away from big blockbusters, Jon Favreau channels his own personal troubles into a delightful, feel-good movie. The cast is earnest, the locations are authentic, and the script is so hilarious and insightful into something specific like food culture. It's the type of movie that, after you're finished watching, leaves you feeling hungry- both for the delicious food on-screen and for more movies like it.
#18: "The Lost City of Z" (2017)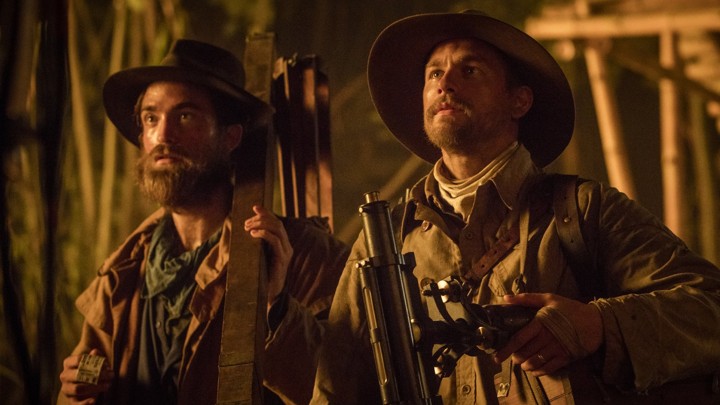 There's something really classical yet brand new about the way that James Gray makes movies. Whether it's a slow sci-fi epic like Ad Astra or a gritty cop drama in We Own the Night, he really likes to toy with different genre conventions. With The Lost City of Z, he takes a swing at old Hollywood epics in the vein of David Lean and William Wyler, and what a swing it is. More psychadelic and contemplative than sweeping and grand, Gray, assisted by Charlie Hunnam's best performance to date, examines the somber and alienating side of exploration and colonialism. It can occasionally feel stuffy and drawn out, but there's a lot to think about by the time the credits role.
#17: "Rust and Bone" (2012)
Although I've only seen a handful of his work, it's clear that director Jacques Audiard doesn't really make movies that are easy for audiences. Rust and Bone is no exception, as it deals with two broken people who try to help each other find some sort of redemption or second chance. It's a very emotionally heavy film and at times feels almost difficult to watch, but never falls into manipulation. The performances by Maria Cotillard and Matthias Schoenarts are gripping and completely believable as they try and navigate a world that's practically indifferent to their personal suffering. It's a "talky" film to be sure, but Rust and Bone always puts the humanity of the characters first and presents a different yet refreshing kind of love story.
#16: "The Girl With a Dragon Tattoo" (2011)
David Fincher is a master of cinematic darkness. Not just because of the sleek color palette for the majority of them, but because he's not afraid to dig deep into the parts of humanity that are, quite frankly, ugly and disgusting. Perhaps none of his films emulate that more than The Girl With the Dragon Tattoo, the second live-action adaptation of Stieg Larsson's novel. It's just as sleek and slick as the rest of his filmography but feels a bit more "commercial" with an intriguing mystery that twists and turns in smart ways. Which makes its relative obscurity all the more puzzling for me.
#15: "Upstream Color" (2013)
If you've ever wondered what the love child of David Lynch and Terrence Malick would look like, this is a really close answer. The best thing I can say about Upstream Color is that it made me watch it all over again immediately after the first viewing. That rarely- if ever -happens with me, but Shane Carruth's sophomore feature isn't just any film. I remember someone describing it as a feature-length, metaphysical love poem and I couldn't agree more. There's an unmistakable sci-fi element to this story, but Carruth and Amy Seimetz's tragic-yet-beautiful romance is what really sells it here. Unlike his debut Primer, this film is more based on emotional logic rather than complicated storytelling and pushes its ambitions beyond the constraints of its ultra-low budget. It's a wholly original film that's completely different from everything else out there in so many ways, and that alone is enough to land itself on this list.
#14: "The Breadwinner" (2017)
All of the attention was centered on Coco when the Academy Awards came around, and justifiably so. But The Breadwinner still deserves recognition because it might just be the most underappreciated animated film of the entire decade, and it was great time for the genre. Even though it's only the third movie under their belt, Cartoon Saloon catapults themselves into the same leagues as Pixar, Dreamworks, and Laika with one master stroke. Telling the story of a young girl forced to provide for her family in Taliban-occupied Afghanistan, the film gracefully avoids any and all potential stereotypes to instead weave a tale of love and empathy. Parvana is quite possibly one of the best protagonists in any films from the last decade, live-action or animated.
#13: "Hunt For the Wilderpeople" (2016)
Filmmaker Taika Waititi has been making such huge strides in Hollywood recently with movies like Thor: Ragnarok and Jojo Rabbit that it can admittedly be easy to forget his unapologetically Kiwi roots. I was tempted to include What We Do in the Shadows on here, but I decided to give the slight edge to 2016's Hunt For the Wilderpeople. It has all of the eccentric, quirky humor you've come to expect from Taika's films while also being remarkably big-hearted in emotion. The adventure at the center of the movie is mature yet kid-like in nature and makes an utter breakout star out of Julian Dennison.
#12: "The Guest" (2014)
Think old-school John Carpenter horror crossed with Nicolas Wending Refn's Drive and you'll have a pretty good idea of what kind of movie you're watching here. And thankfully, that combination is just as amazing as it sounds because Adam Wingard's The Guest is a total blast from start to finish. The stakes are appropriately lowkey, but still feel immediate and makes my palms sweat while watching it. It has a very unique feel because even though it's set in the modern era, there's something unmistakably old-school about it. The atmosphere, the score, the Steadicam of it all. It's all oh so delicious, and while it may feel like style over substance at times, it's hard not to be seduced by Dan Stevens' excellent lead performance.
#11: "Midnight Special" (2016)
Jeff Nichols' Midnight Special almost feels like a gift from the past, the type of film that studios just don't make anymore. Telling a singular, original sci-fi story with a big budget is no small ask these days, but the film is able to balance genre spectacle with palpable human emotion. It feels both like a callback to the old Amblin adventures of Spielberg's heyday and also like a genuinely engaging modern thriller. And a lot of that has to do with the powerful father-son dynamic between Jaeden Martell and Nichol's regular collaborator Michael Shannon at the center of the film. Even without the sci-fi element, their chemistry and core storyline is still compelling enough to keep people invested.
#10: "Dangal" (2016)
Really any Bollywood movie from the decade could've taken this spot on the list, including Queen and Barfi. But I'd argue that of the ones that I did get a chance to watch, Dangal was the most enjoyable and accessible. The story, which is apparently based on true events, finds the inimitable movie star Aamir Khan as a man trying to raise his daughters to become the best wrestlers in India and the world at large. While it follows the same sort of feel-good structure as most films of the genre, it's still incredibly fun and interesting to watch as the dysfunctional family finds themselves more and more immersed in the world of professional wrestling. It's also a testament to the movie's quality that it manages to fly by even with a whopping 2 hour and 41 minute-long runtime.
#9: "Snowpiercer" (2013)
Bong Joon-ho is hardly the first foreign filmmaker this decade to make the transition to Hollywood-esque filmmaking, but there's something truly unique about Snowpiercer. It's vision of the future, in which the remnants of humanity are piled into a never-ending train that glides around a frozen Earth, is bleak yet compelling. It's style and visual aesthetic help to set it apart from other films in the genre and comes complete with a devastating final act that showcases Chris Evans beyond the constraints of Captain America. If for nothing else, Snowpiercer is a perfect segue into Joon-ho's other work and how he makes movies; entertaining yet biting. It was also one of the very first reviews I ever posted on this blog, which I don't particularly feel proud of, but helped inspire me to share my opinions publicly.
#8: "The Master" (2012)
In general, I've run hot and cold on Paul Thomas Anderson's filmography, but when he gets it right he hits it out of the park. And while some may point to Phantom Thread, I believe that this film is his most overlooked by far. The Master has many of his regular themes and ideas and puts them into the mindset of a perpetually drunk man who's desperate to find belonging and meaning. With an authentic backdrop of post-World War II America and some of the best cinematography you'll see this decade, there's something that feels both old-fashioned yet totally modern about this historical drama. Oh, and Joaquin Phoenix is an absolute beast here. That scene of him and the late great Philip Seymour Hoffman in the jail cell was one of the most intense and gripping I had watched in quite a while.
#7: "Sorry to Bother You" (2018)
It's hard for me to think of another feature debut from the last decade that swung for the fence as hard and as ballsy as Sorry to Bother You did. Boots Riley has a lot to say about the current state of white corporatism, but he's able to channel it into a highly entertaining sci-fi comedy. It takes an absurdist approach to its subject matter- a black man in telemarketing using a "white voice" to become successful -and uses it to look at how capitalism and race intertwine in devastating ways. And the end results of it are equally hilarious and unnervingly real as Lakeith Stanfield (In his best role to date) navigates the highs and lows of privilege.
#6: "Raw" (2017)
This is one of the most gruesome coming-of-age stories I've seen recently that also happens to be a bit of body horror madness. I had heard tales of how gruesome it was, but all the blood and guts comes secondary to Julie Ducournau's killer direction of the story. (Side note: This is also Ducournau's feature debut) It's a fascinating tale as we watch a young woman gradually lose her grip on reality as things in her life begin to spiral out of control. What makes Raw so compelling is that it teeters on the edge between being an all-out horror romp and a parable about a young woman's awakening. Yes, there is plenty of gore shown throughout, but it never feels excessive and even thematically helps the story of the film. It might just be one of the best films t come out of France in a long while.
#5: "You Were Never Really Here" (2018)
Lynne Ramsay should be allowed to make more movies because if You Were Never Really Here is any indication, she's one of the true cinematic geniuses of our time. Calling it a modern-day Taxi Driver is a bit of a reduction to its quality. While it isn't quite as political as that Scorsese classic, it has so much bite and razor sharp ideas on trauma, stability, and the comfort of a corrupt system. The film foregoes showcasing brutal action and violence on-screen and instead is way more interested in looking at the effects it has on people after the fact. And it's all hammered home by arguably the best work of Joaquin Phoenix's career and a haunting score from Johnny Greenwood.
#4: "The Nice Guys" (2016)
Whatever happened to the buddy-cop crime genre? Movies like The Nice Guys make me wonder this frequently, as it proves the genre still has plenty of creative life left in it. It features one of the best screenplays of the entire decade from Shane Black with some crackling dialogue and a great mystery that twists and turns gleefully. It feels like a throwback to a time when studios were eager to let their filmmakers try something different and fun. It also features some of the best work from Ryan Gosling and Russell Crowe, and easily their funniest to date. Their chemistry is an enormous reason why this film holds up and deserves a whole franchise of its own.
#3: "Prisoners" (2013)
For me, Denis Villeneuve is THE breakout director of the decade, but for some reason, people continue to miss or ignore his English-language debut. That's a damn shame because Prisoners is an honest to God masterclass of modern filmmaking. Despite its relatively simple premise, it proves that simplicity is still a thing of beauty as it's told in such an engrossing and original way. You're pulled in not just by the amazing performances from Hugh Jackman and Jake Gyllenhaal, but also by the palpable emotional stakes of two young girls kidnapped in a small Pennsylvania town. The complexity of the situation, from how the desperate parents handle it to the frustration of the police over a lack of leads, bears down on you like an anvil. Plus, it doesn't hurt that the inimitable Roger Deakins provides some truly incredible cinematography for such a small story.
#2: "Hugo" (2011)
Family-friendly movies have always been a tough nut to crack and this decade saw several ups and downs in the genre. It kind of baffles me that Hugo, one of the best in many years, was not only a commercial disappointment but has largely been forgotten by time. I would not only count it among the most overlooked films of the decade but also as one Martin Scorsese's best works in years. Being set in early 20th-century France creates an ambience of nostalgia that thankfully doesn't crush the rest of the film. It has a warmhearted innocence that's been missing from the genre in recent times and a genuinely touching tribute to the world of cinema as a whole. Scorsese's background as a film historian really lends itself well to the story and he gets really great performances out of Asa Butterfield and Chloe Grace Moretz.
#1: "Cloud Atlas" (2012)
Cloud Atlas is the type of film that comes along every once in a while that makes you wonder, "Why aren't more people talking about this?" Everything about this David Mitchell adaptation feels like the type of ambitious, sweeping epic Hollywood used to love making eons ago. But now with modern technology and broadened storytelling horizons, the Wachowskis and Tom Tykwer are able to create a film that floods with intriguing stories across many centuries. From the core cast members who play different roles over various timelines to the beautiful score that ties many of the themes together, it's almost impossible to avoid getting wrapped up in what the directing trio set out to do. Saying that all life is interconnected somehow may sound cheap, but Cloud Atlas earns the emotional payoff as all the threads come together. I only hope that other cinephiles and casual viewers down the road will share the same enthusiasm for it.
Do you agree with my picks? What do you think was the most underrated or overlooked film of the past decade? Leave a comment below on your thoughts, and if you like what you see here, be sure to Like this post and Follow my blog for more movie-related content.