**This list will contain mild spoilers for the shows and episodes herein.**
We live in an era of Peak T.V. This is both a blessing and a curse. A blessing, because there's enormous variety in shows and entertainment at our fingertips nowadays. But also a curse, because there's so much television content out there right now that it's hard to find enough truly great shows to chow down on. And I confess not being able to watch many of the critical favorites myself, (Succession and Killing Eve have sadly eluded me) but I still saw some amazing shows this decade.
This list consists of my absolute favorite episodes from shows that either debuted or achieved peak popularity/quality in the 2010s. And before we get started, there are some honorable mentions that just barely missed the cut still worth recognition.
Honorable Mentions:
"The Trolley Problem" from The Good Place, "The Box" from Brooklyn Nine-Nine, "The Company" from Peaky Blinders, "Sic Mundus Creatus Est" from Dark, "Leslie and Ron" from Parks and Recreation, "Good For the Soul" from The Boys, "The Candidate" from Lost, "Take Me Back to Hell" from Lucifer, "Nationals" from Glee, "Modern Warfare" from Community.
Time to recognize some of the best that television had to offer this past decade.
#10: "YHWH", Person of Interest (May 5th, 2015)
"I will not suffer. If I do not survive… thank you, for creating me." You wouldn't expect a text-only exchange between a human and a superintelligent A.I. to be so emotional. But with the help of Pink Floyd's "Welcome to the Machine," the season 4 finale for Jonathan Nolan's overlooked sci-fi crime series does just that. By season 3, it was clear that Person of Interest had become much more than your standard procedural drama. And here, the conflict between the Machine and Samaritan is brought to such a bloody and beautiful head that it almost dwarfs the conflicts from earlier seasons. The full extent to which Samaritan is willing to manipulate humanity is finally unveiled as the so-called "Correction" takes place in its final moments. It expertly sets the stage for the final season while also providing amazing thrills, action, and drama.
#9: "The Ricklantis Mixup", Rick and Morty (Sept. 10th, 2017)
Let's get this out of the way: Yes, Rick and Morty has one of the worst fanbases for any show I can think of, and yes, it's still a great show all the same. While most of the episodes are really great and worth watching multiple times, it's the season 3 outing "The Ricklantis Mixup" (Or "tales From the Citadel") that I find myself coming back to the most. Following a bait-and-switch cold open, we spend the entire time exploring a specific sect of this universe that had previously not been seen in-depth. As expected, the animation and sound design are on point as this is an episode where Justin Roiland largely just talks to himself. The intertwining stories work greatly to hold a mirror up to the current sociopolitical troubles of America while still doling out its unique humor, capped off by one hell of a reveal for an ending. And despite what some fans may tell you, you definitely don't need an extremely high I.Q. to appreciate it.
#8: "San Junipero", Black Mirror (Oct. 21st, 2016)
I'm not as big of a fan of Black Mirror as a lot of others are. It's a really interesting anthology show with some creative ideas, but more often than not it feels like Charlie Brooker sacrifices meaningful commentary or emotion for shock value gut punches. San Junipero, one of the first episodes under its new Netflix home, offers a huge breath of fresh air by being surprisingly optimistic in tone. A simple yet emotionally powerful love story set against yet another piece of technology likely to happen, it pivots the bleak pitfalls of previous episodes by letting the characters breathe for once. Thrown in a gorgeous color palette and two excellent lead performances from Mackenzie Davis and Gugu Mbatha-Raw, and you've got yourself easily one of the most accessible episodes in the whole series.
#7: "Margate Sands", Boardwalk Empire (Dec. 2nd, 2012)
I always felt like this show was a little underrated. It came right in the slot of time after The Sopranos ended but right before Game of Thrones really put HBO on the map. In any case, Boardwalk Empire is a great gangster show with some really amazing episodes, and this season 3 finale might just be the biggest highlight. Multiple threads are brought to a conclusion in a fulfilling way and "Margate Sands" turns tragic as we watch Nucky Thompson's humanity fade away even further than before. We even get to see Richard Harrow as a one-man army like we've never seen before in one of the best shootouts in television history. If this episode had actually served as the series finale, it would have been an ultra-satisfying high note to go out on.
#6: "Here's Not Here", The Walking Dead (Nov. 1st, 2015)
The Walking Dead has had many ups and downs over its ten-season run, but it has still produced some truly great episodes. I could just as easily talk about the pilot, Negan bashing his way into the show in "The Day Will Come When You Won't Be," or how "Bounty" reinvigorated the show after so many years. But it's this small season 6 episode that shows Morgan's journey that takes the cake. The closest the show has come to a "bottle episode," it's a great reminder of how deeply humanistic the show can be. I've always felt like Lennie James was underrated as Morgan and "Here's Not Here" proves why, as we get to see him reckoning with pacifism and peace in world where violence is necessary for survival. It also features John Carroll Lynch as one of the greatest one-off characters in recent memory. If more people strove to think like Eastman, I'm convinced that the world would be a somewhat better place.
#5: "Chapter 1", Legion (Feb. 8th, 2017)
This is the kind of series premiere that is so wild and so amazing that the rest of the show afterward never quite lives up to it. Regardless, the pilot for Legion is probably the greatest episode for a comic book show ever crafted, and this decade saw a lot of amazing shows in that genre. Noah Hawley sets up the tone and visual style with such incredible skill, really putting us into the wild and unpredictable mind of David Hall. And on top of that, and Dan Stevens' excellent performance, it never really feels like a superhero show until the very end. That long take escape sequence deserves to go down as one of the most memorable shots in recent T.V. memory.
#4: "eps.1.7_wh1ter0se.m4v", Mr. Robot (Aug. 12th, 2015)
Given that this show is almost reliant on big twists and reveals every now and then, it can be hard to determine where the moment everything TRULY changed came about. For me, it's simple: the 8th episode of the first season for Sam Esmail's series Mr. Robot. In addition to introducing B.D. Wong's fascinating character White Rose and the long-talked-about Dark Army, more of the show's mysterious elements are explained in a shocking yet satisfying way. The full implications of Elliot's unreliability as a narrator and the truth behind the show's titular character are brought to light in stunning fashion. It was clear from this episode onward that this series would be more than just a typical psychological thriller.
#3: "Possession", Penny Dreadful (June 22nd, 2014)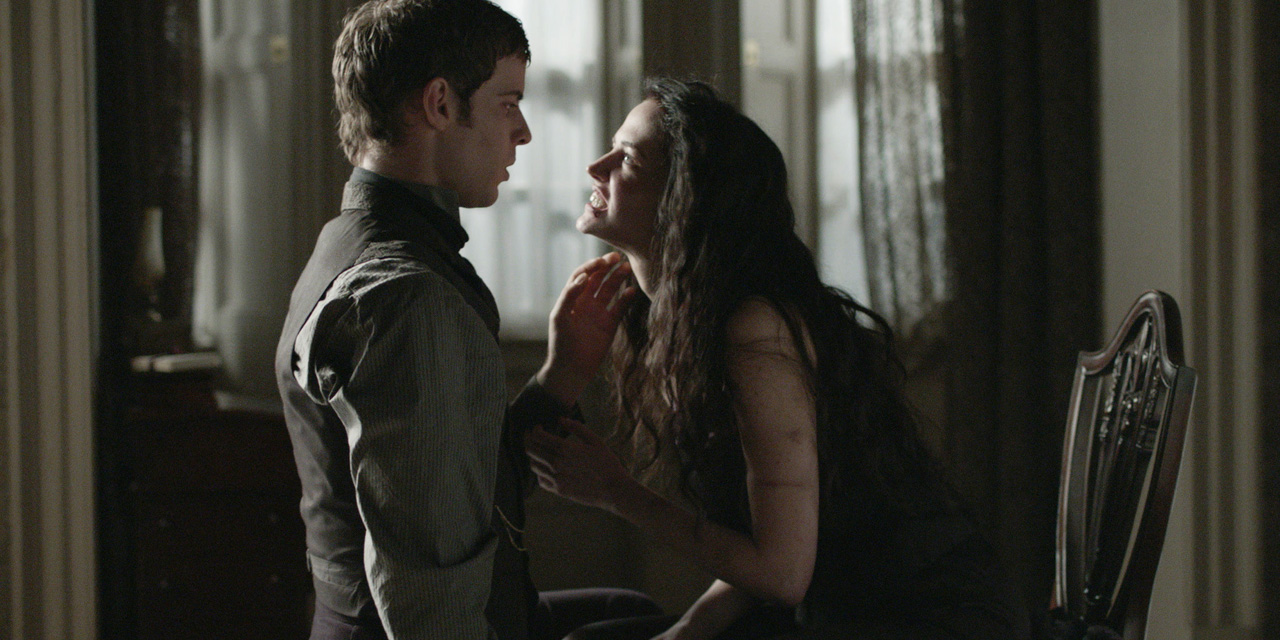 Why was Eva Green completely ignored by the Emmys and Golden Globes for her work in Penny Dreadful? It's a question I've asked myself many times over because hers is one of the best performances of any actor I've seen this decade. Penny Dreadful, my personal favorite horror show of all time, has many episodes where her brilliance is shown but nowhere near as devastating or convincing than in "Possession." As its title suggests, the crew has to help exorcise Vanessa over 4 nights when Lucifer tries to take her over. It's disturbing and heartbreaking as all of the characters, including Vanessa herself, contemplate whether or not to simply put her out of her misery. It's a relatively simple episode, but one that provides immense insight into its characters and proves why John Logan is one of my favorite screenwriters working today.
#2: "The Winds of Winter", Game of Thrones (June 26th, 2016)
Regardless of your thoughts on the controversial final season, it's hard to deny the overall quality of Game of Thrones. There have been many unforgettable episodes through its run, with "Battle of the Bastards" and "The Rains of Castamere" also being incredible. But there's something particularly special about the season 6 finale, "The Winds of Winter." It feels like the epic payoff to several seasons worth of buildup for many characters, especially Cersei and Arya. Numerous storylines are tied up in neat little bows while still leaving room for what's to come, especially since winter has officially arrived. Ramin Djawadi also provides some of his best work ever with the opening track "Light of the Seven." And that's not even mentioning how it finally confirmed a fan theory that had long been held since the first book was published over 23 years ago. If only George R. R. Martin could finishing writing the damn series.
#1: "Ozymandias", Breaking Bad (Sept. 15th, 2013)
The shootout with the Salamanca Twins. The ending of "Crawl Space." Gus poisoning the Cartel. The train heist. Pick any episode you like from the last three seasons and it could have landed at this spot just as easily. But pretty much every fan of the show, myself included, will tell you that Breaking Bad reached the highest peak of television with its third-to-last episode, "Ozymandias." With incredible direction from Rian Johnson and career-best performances from the whole cast, there isn't a dull moment to be had as we watch everyone come to terms with the consequences of their actions. Its title perfectly represents the theme of Walter White's empire, which he's built over five seasons, crumbling before his eyes in a matter of minutes. You can even pinpoint the exact moment when Heisenberg dies forever and he realizes that it's all over, making it so crushing yet rewarding to watch. In short, "Ozymandias" is just about as close to perfect as an hour of television can and likely ever will get.
And that's that. Do you agree or disagree with this list? What was your favorite episode of T.V. from the 2010s? I'd love to see a comment or two on your opinions, and if you enjoy what you read here, don't forget to Like this post and Follow my Blog.